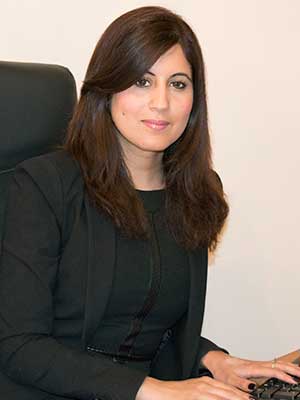 Accolades
Runner up Hampshire Law Society Solicitor of the Year Award 2016
Nominated for Solicitor of the Year Law Society Excellence Awards 2016
Profile
Neeru is a senior criminal defence solicitor and one of the Directors of the firm. She is an assured and recognised specialist in serious and complex criminal defence work. She is instructed almost exclusively in cases involving murder, terrorism, and drug trafficking as well as White Collar Fraud cases, across the length and breadth of the country.
Neeru is highly regarded by her loyal and extensive client base and has built up an enviable practice based on client referrals alone. She is astute, practical and hands-on in her approach, and her early involvement in any case makes a key difference and sets her apart from the rest. Should matters progress to court she is meticulous in her preparation and has an enviably high acquittal rate.
In recent years Neeru has received instructions in some of the most serious and high profile cases in the country, many of which have received national media coverage. She has built up a reputation for her unparalleled level of preparation and tenacity, and dogged approach with the police and CPS.
Neeru has particular experience in dealing with the whole spectrum of complex fraud allegations in cases that are invariably paper-heavy, including MTIC and carousel fraud, boiler room fraud, investment and mortgage fraud, VAT fraud, insurance fraud and Ponzi scheme frauds. She has successfully defended large scale multi-million pound money laundering allegations under the Proceeds of Crime Act 2002, as well as the associated proceedings relating to restraint, forfeiture and confiscation. She has acted for individuals in investigations and prosecutions brought by the Crown Prosecution Service (CPS), Her Majesty's Revenue and Customs (HMRC), The National Crime Agency (NCA), The Financial Conduct Authority (FCA), the Serious Fraud Office (SFO) and the Competition and Markets Authority (CMA).
Bibliography/ Notable Cases
Terrorism
Neeru is now regularly instructed in cases involving allegations of committing, supporting and funding terrorism.
R v IH & 3 others 2016 (Operation Knubby) –IH was charged in proceedings before the Old Bailey facing allegations of supporting and funding terrorism by sending funds to ISIS in Syria.
R V NH & 3 others 2016 -NH was charged with conspiracy to commit murder and the preparation of terrorist acts. He was acquitted after a three month trial at the Old Bailey. This high profile case involved a plot to kill soldiers, police officers and civilians in a series of Islamic State inspired drive by shootings. The case was described as one of the largest terror plots uncovered by MI5 in recent years and involved 80,000 pages of evidence including complex computer and telecommunications material.
Financial Crime
Neeru is a serious fraud specialist and has over the years represented clients charged with the whole spectrum of fraud offences.
R v. ST & 22 others 2016 (Operation Harpseal) –currently representing ST in a large multi-million pound VAT fraud and money laundering case.
R v CF & 10 others 2015 (Operation Starving) – CF was one of seventeen defendants prosecuted by the National Crime Agency whereby it had been alleged that millions of pounds had been laundered through a number of domestic and off shore bank accounts.
R v BKR 2015 (Operation Elder) –BKR was a company director implicated in a large scale conspiracy to defraud involving the supply of illegal immigrants to companies in the construction industry, and associated money laundering charges. The value of the fraud was in excess of £ 1 million.
R v P 2014 (Operation Testmatch) –P was charged with a multi-million pound conspiracy to fraudulently evade tobacco excise duty on an international scale.
R v G 2014 –G and son in an HMRC fraud involving the formation of a number of sham companies in order to fraudulently reclaim tax rebates and VAT.
R v A 2013 (Operation Blackthorne) -A was charged with a multi-handed conspiracy to defraud involving the clocking of car mileage.
R v S 2013 (Operation Metercarpal) -A was charged with a highly publicised conspiracy to defraud, involving exportation of stolen construction plant machinery and prestige motor vehicles. The ancillary confiscation proceedings involved millions of pounds of hidden assets.
General Crime
Neeru has over the years represented a multitude of clients charged with murder and almost all other serious criminal allegations.
R v. SE & 2 others 2017 -SE was charged with others in a 'joint enterprise' murder concerning a gangland robbery and shooting.
R v. DK & 4 others 2017 – DK was charged with various allegations of immigration fraud and facilitating illegal immigration.
R v. UA & 1 other 2017 -UA was charged with perverting the course of justice in a murder case in which the seldom used 'suicide pact' defence is raised.
R v AO & 8 others 2016 (Operation Biscuit) –AO was charged with 7 others in a case involving allegations of Conspiracy to Supply Class A drugs and Money Laundering centring around a London based Organised Crime Group (OCG) which was dealing large quantities of Class A drugs on to the streets of Plymouth, Devon.
R v B 2015 (Operation Heat) -NB was charged with the high profile historic abduction and murder of Nicola Payne that dated back to 1991 in which the deceased's body had never been recovered. The police investigation spanned over 25 years and the defendant was arrested in early 2015. The jury unanimously acquitted both defendants. Issues of contamination and plant of evidence were raised. The case received widespread national and local press coverage including the BBC, SKY News and the Guardian.
R v C 2015 – C was accused of multiple counts of historic rape on a number of victims.
R v W 2014 (Operation Jindo) –W was charged with a large scale conspiracy to steal high value motor vehicles and sell the component parts.
R v A 2014 (Operation Chopito) –A was involved in an international investigation involving the importation and supply of 40 kilos of high purity of cocaine valued at 11 million pounds from Mexico into the UK via British Airways
R v B 2014 –B was charged with a multi-handed gang shooting in the West Midlands.
R v L 2014 –L was a 16 year old charged with a highly publicised gangland murder of a vulnerable victim.
R v A 2014 –A was charged with a multi-handed conspiracy involving the sexual grooming, exploitation and rape of girls aged between 11 and 16.
R v F 2013 –F was a banker charged with a highly publicised conspiracy to rape and facilitate child sex offences. This case was described as one of the largest paedophile rings uncovered by the Metropolitan police in recent years.
R v P 2013 (Operation Gascony) –P was charged with a sixteen handed conspiracy to produce and supply cannabis.
R v B 2013 –B was one of the leading members of the infamous organised criminal gang in the West Midlands known as 'P1' and was charged with an eight handed conspiracy to murder, commit robbery and handle stolen goods.
R v D 2012 –D was involved in a case involving trademark offences concerning the large scale importation of counterfeit trainers from Europe (as featured in the TV programme "Smugglers").
R v S 2012 –S was charged with murder with ten others in Warwickshire. This case involved difficult and sensitive PPI issues concerning use of informants, undercover operatives and telephone intercepts. As a result of these issues, the case collapsed and all defendants were acquitted. This case was described as the largest murder case investigated by Warwickshire police.
R v M 2012 –M was a journalist for a national newspaper accused of possessing thousands of indecent images and videos of children
TESTIMONIALS
What the clients say…..
"This solicitor is something else…she's the one person one I would always turn to when in trouble".
"Excellent advice and service"
"Best lawyer by far I've ever come across"
"Highly recommended, absolutely fantastic solicitor"
What the professionals say..
" A first rate solicitor, who is a class apart from all others. Anyone facing serious allegations should look no further than Neeru. If I were in trouble she would be the only person I'd call. Her results speak for themselves."
Sanjeev M. Sharma Barrister Equity Chambers
"In all my 28 years' experience as a trial advocate, I have never seen a client so expertly represented. At all times Neeru conducts herself with the highest professionalism and, by her unruffled demeanour, inspired confidence in a very frightened client [ we were representing]. I do not think the case would have achieved the successful result it had (acquittal on Conspiracy to Murder and Preparing acts of terrorism) without Neeru's hard work, wisdom and good humour."
David Gottlieb Barrister Thomas More Chambers
"I commend her to you as an excellent and caring solicitor who is able to get to the heart of the issues and identify what is required to be done maintaining the confidence of the client throughout."
Nigel Lambert QC Carmelite Chambers
E-Mail:
nhutchinson@applebyshaw.com
Memberships:
Law Society
Fraud Lawyers Association
Qualifications
LLB Hon's
Languages
Hindi, Punjabi, Urdu